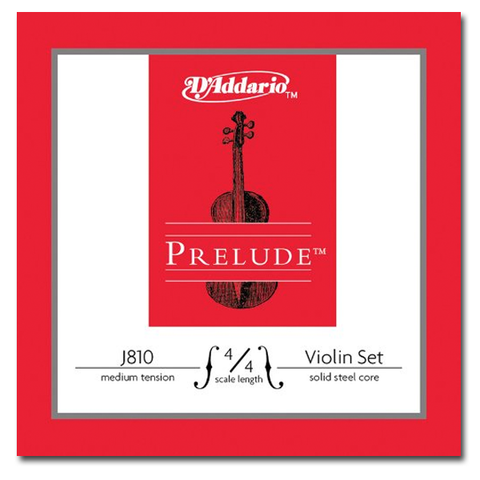 Violin - D'Addario Prelude Violin String Set, 4/4 Scale, Medium Tension
Scaled to fit 4/4 size violin with a playing length of 13 inches (328mm), these medium tension strings are optimized to the needs of a majority of players. Packaged in uniquely-designed sealed pouches providing unparalleled protection from the elements that cause corrosion. 
Prelude violin strings are manufactured using a solid steel core. Unaffected by temperature and humidity changes, they have excellent bow response. Prelude strings have the warmest sound available in an affordable, solid steel core string design. Prelude is the educator's preferred choice for student strings due to their unique blend of warm tone, durability, and value.
D'Addario, the world's largest manufacturer of musical instrument strings, is known worldwide for unsurpassed quality and consistency. D'Addario continues to develop and manufacture exceptional strings and accessories for violin, viola, cello and double bass, incorporating innovative packaging that reduces waste and provides protection from corrosion. All D'Addario strings are manufactured in the U.S.A. using proprietary, digitally controlled, state-of-the-art machinery for unmatched performance, set after set.
Features:
Medium

Solid steel core optimized

Warmest-sounding student strings available

Educator's preferred choice for student strings

Unique blend of warm tone, economy, and durability

4/4 scale violin with a playing length of 13 inches (328mm)

Designed, engineered and manufactured in the USA
---
We Also Recommend