NUX Edge Delay Pedal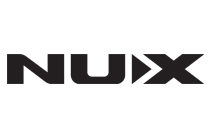 NDD-3
THE EDGE DELAY PROVIDES YOU WITH 3 UNIQUE DELAYS, EACH INCLUDING ACURATE CONTROL OVER ITS SONIC CHARACTER AND FEEL. CLEAR, STUDIO-QUALITY DIGITAL DELAYS. SATURATED AND FLUCTUATING SOUNDS OF TAPE DELAY MACHINES. WARM AND FUZZY ANALOG STYLE REPEATS.
The Edge delay (NDD-3) is a mini delay pedal with 3 different delay types including ΦPhi Digital Delay, Analog Delay, and Tape Echo. You can switch delay types by pressing and holding the footswitch.
SUB-DIVISION WITH SMART TAP TEMPO
DELAY SUB-DIVISIONS WITH SMART TAP TEMPOSet the Time knob parameter to your desired sub-division, then you can engage the smart tap tempo by pressing the footswitch twice to get a dynamic sub-division tap tempo delay.
Press the footswitch once to engage/disengage the effect. Press twice, to access Smart Tap Tempo. In the meantime, the delay time is related to tap tempo and current sub-division parameter. (The FS indicator will flash as current BPM.)

Mini but mighty! It also supports Stereo input & output. (Use 1/4" TRS cable and choose Stereo mode.)
---
We Also Recommend