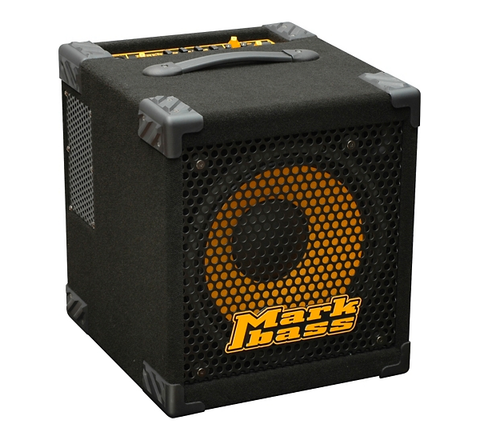 MarkBass Mini 121P Bass Combo
Big-time, fat output from a bass combo weighing less than 30 lb!
The Markbass Mini CMD 121P is a bass combo amplifier that gives you fat sound with electric or acoustic basses. That makes the Mini CMD 121P amp perfect for rehearsal studios or small club applications. The Markbass Mini CMD 121P comes with a built-in Little Mark II bass head in the top rear area. Bassists will appreciate the Markbass-designed Vintage Loudspeaker Emulator and Variable Pre-shape Filter which help give this Mini CMD a warm natural sound. The Little Mark II also has a Neutrik Speakon combo jack output that accepts both Speakon or 1/4" speaker cable as well as a second 1/4" speaker out jack so you can hook up to another 8 ohm cab for a 500W rig. You'll also find a balanced XLR out, unbalanced tuner out so you can tune as you play without passing your signal through pedals. A Send and Return Effect loop protects you from losing your signal if one of your pedals dies or a cable in the chain gives out.
Features:
Solid state preamp
12" B&C speaker
Piezo tweeter
Rear bass reflex
Made of high-grade, multi-ply poplar
Lightweight for easy transport
Handle on top for transporting
Protected corners
Grill screen to protect speaker
Little Mark II:
Provides 500W at 4 ohm or 300W at 8 ohm
Gain and Master volume controls
Clip warning light
EQ includes controls for Low, Mid Frequency Low, High Frequency Low, and High
VLE (Vintage Loudspeaker Emulator) and VPF (Variable Pre-shape Filter) filters
Neutrik Speakon Combo out jacks for use with 1/4" or Speakon speaker cables
Balanced XLR out
Ground lift switch to eliminate hum
Tuner out sends unbalanced signal sent to a tuner, amp or recording equipment not needing a balanced signal
Send and Return Effect ensures main signal continues even if something dies in your effects chain
---
We Also Recommend