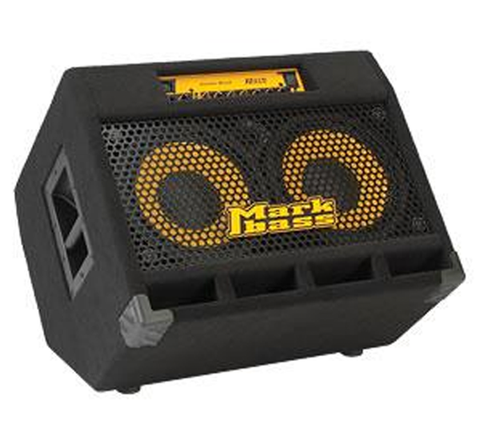 MarkBass CMD 102P Tilt-Back Bass Combo
The Markbass CMD 102P is a tilt-back bass combo amplifier that has a built-in Little Mark II solid state preamp to give you more power. To help shape your sound, the CMD 102P bass amp gives you a 4-band EQ, as well as VLE (Vintage Loudspeaker Emulator) and VPF (Variable Pre-shape Filter) filters for control.

The Markbass CMD 102P amp's I/O includes an input that can handle both passive and active basses, and extra XLR balanced input for double bass pickups, Neutrik Speakon Combo out jacks for use with 1/4" or Speakon speaker cables, a tuner out jack for sending unbalanced signals to a tuner, amp, or other recording equipment, and Send and Return Effect jacks to ensure your main signal continues even if something dies in your effects chain. This versatile bass combo has an angled cabinet so that you can use it as a floor model or in the more traditional vertical position. Either way, you're going to get a warm, natural sound from the 2 B&C 10" speakers and the piezo tweeter. And if you add an external cab via the outputs, the CMD 102P combo amp will give you enough sound to fill a large venue with headroom to spare.
Features:
Solid state Little Mark II preamp built-in to the front
2 - 10" B&C neodynium speakers
Piezo tweeter
Made of high-grade, multi-ply poplar
Glued, screwed, and sealed internally
Special compounds for maximum sound quality
Lightweight
Use either as a floor monitor or vertically
Grille screen to protect speakers
Little Mark II:
Provides 500W at 4 ohm or 300W at 8 ohm
Gain and Master volume controls
Clip warning light
EQ 
VLE / VPF filters
Neutrik Speakon Combo out jacks
1/4" or Speakon speaker cables
Balanced XLR out
Ground lift switch to eliminate hum
---
We Also Recommend