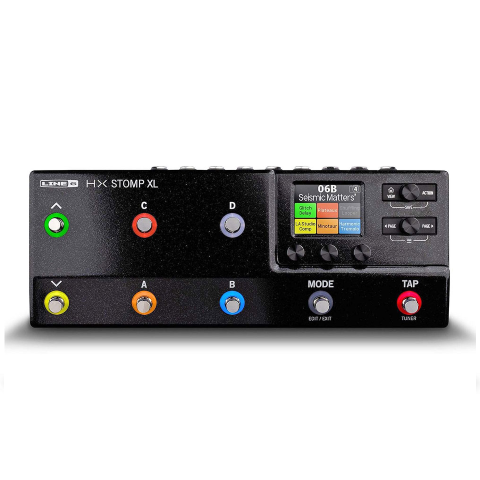 Line 6 HX Stomp XL Effects Compact Professional Guitar Processor
HXSTOMPXL
HX Stomp XL is a professional-grade amp and effects processor that delivers HX modeling in a performance-ready pedal with eight capacitive-touch footswitches. The same SHARC DSP chip found in our flagship Helix products enables the HX Stomp XL pedal to run up to eight processing blocks simultaneously, and the assignable footswitches let you access and control those blocks in powerful ways, making it flexible enough for use in nearly any application. Use HX Stomp XL as a "super stompbox," a backup or travel rig, an add-on tone expander with other modelers, a professional-quality audio interface, or even a complete guitar or bass rig. The HX Stomp XL processor's Command Center functionality, MIDI capabilities, and external expression pedal jack also make it an ideal master controller for your entire setup.

HX Stomp XL comes loaded with more than 300 amps, cabs, and effects, including world-class polyphonic pitch-shifting effects. The 128 factory presets include vintage and modern sounds, and there are also presets created specifically for bass players, as well as individual bass amp and cab models.

Additional features include a choice of true bypass and DSP bypass with trails, a stereo effects loop to integrate external devices or employ 4-Cable Method, a jack for two external footswitches or an expression pedal, third-party IR support, and a multichannel 24-bit/96kHz USB audio interface. The free HX Edit app lets you create, save and load presets, and customize nearly all pedal parameters. It's also a preset librarian, IR loader, and more.
- The power of HX Stomp - now with eight footswitches
- Exceptional sound quality with 123dB of dynamic range
- Features the same SHARC DSP chip and HX Modeling as Helix processors
- Eight capacitive-touch footswitches with color-coded LED rings
- More than 300 HX and legacy amps, cabs, and effects - up to 8 simultaneous
- Supports third-party impulse responses (IRs)
- World-class polyphonic pitch-shifting effects
- Split/parallel signal paths for maximum routing flexibility
- Dual expression pedal/footswitch input for greater creative control
- Stereo effects loop (mono/stereo TRS send + stereo returns)

---
We Also Recommend