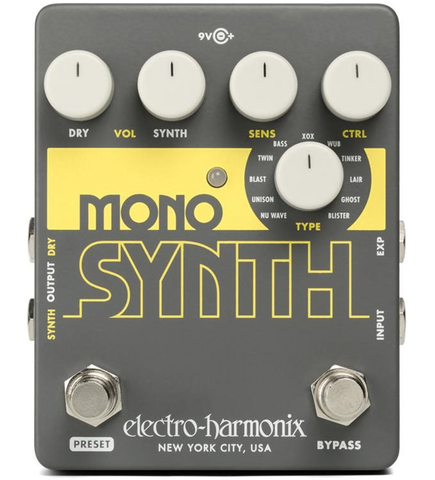 Electro-Harmonix Mono Synth Synthesizer Guitar Effects Pedal
MONOSYNTH
From "Superstition" synth bass to "Blue Orchid" stacked leads and beyond, the EHX Mono Synth infuses your guitar signal with 11 vintage monophonic synth emulations straight out of the '70s and '80s. No instrument mods, MIDI, or special pickups are required — just plug straight in as you would any other pedal. Once you dial in a sound you love, save patches to any of 11 user presets and recall with lightning speed. The Mono Synth's Dry and Synth knobs let you blend back in a jigger or snifter of your untouched guitar signal for note clarity and enhanced realism. An expression pedal input (pedal not included) unlocks real-time parameter control without touching a knob.
Plenty of room for extra tweakability
There are so many cool sounds that you can dial in with EHX's Mono Synth pedal. You get 11 great-sounding synthesizers to start from. The Sensitivity control adjusts how your playing dynamics trigger the synthesizer, allowing you to fine-tune the pedal's response to your rig and playing style. From there, you can adjust a key parameter for each of the 11 synth types with the Control knob. And — if you're still hungering for more — you can use the Mono Synth's Expression input to gain real-time control over an entirely different parameter. Beyond that, you can create, save, and recall 11 user presets, one for each of the 11 synth sounds.  
Features:
Transforms your guitar into any of 11 vintage-flavored monosynths

Doesn't require instrument modifications, special pickups, or MIDI

Sensitivity knob fine-tunes the pedal's response to your rig and playing style

Control knob adjusts a key parameter for each of the 11 synth types

Dry and Synth knobs for dialing in the perfect wet/dry balance

Expression pedal input enables real-time control

Create, save, and recall 11 user presets, one for each of the 11 synth sounds
Pedal Type: 

Guitar Mono Synth

Inputs: 

1 x 1/4"

Outputs: 

1 x 1/4" (effect), 1 x 1/4" (dry out)

Other I/O: 

1 x 1/4" (expression)

Effects: 

11 x Synths:

Xox

Wub

Tinker

Lair

Ghost

Blister

Nu Wave

Unison

Blast

Twin

Bass

Bypass Switching: 

Buffered

Power Source: 

9V DC power supply required (included)

Power Usage: 

125mA
---
We Also Recommend