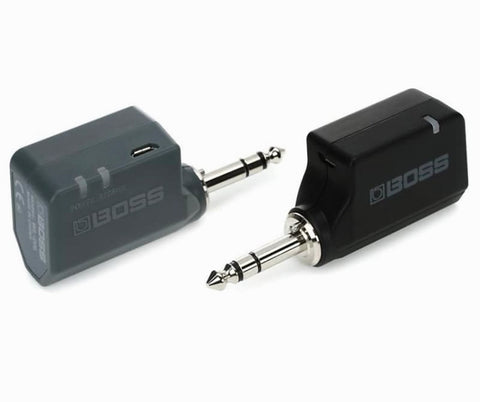 (Guitar) - Boss WL-20L Guitar / Bass Digital Wireless System
WL20L
The WL-20L model is functionally identical to the WL20, with the exception that it eliminates cable tone simulation. This makes it the best choice for instruments where cable capacitance has little or no effect on the tone, such as an acoustic/electric guitar with an onboard preamp, a guitar or bass with active pickups, or a line-level device like a keytar or Roland's Aerophone digital wind instrument. The WL-20L also works great with passive pickups if you don't need the subtle treble roll-off provided by cable tone simulation.
Features:

Easy-to-use guitar wireless system
Avoids complicated setups in favour of a simple plug-and-play design
Experience ultra-low latency and expansive dynamics
Enjoy rock-solid stability and a 50-foot operating range
Works best with guitars or basses with Active pickups (instruments that take batteries)
Easy charging with a standard USB adapter (5V/500 mA or greater)
Includes a micro USB cable for charging the transmitter separately
Benefit from up to 10 hours of continuous use from a single charge
Use up to 14 BOSS wireless systems simultaneously in one space
Configuration: 

Complete System

System: Simultaneous Channels: 

Up to 14

System: Analog/Digital: 

Digital

System: Frequency Range: 

2.4 GHz

System: Operating Range: 

50 ft. Line-of-sight

System: Frequency Response: 

20Hz-20kHz

Transmitter: Form Factor: 

Combination Plug

Transmitter: Dynamic Range: 

>110dB

Transmitter: Battery Type: 

Lithium-ion rechargeable

Transmitter: Battery Life: 

12 hours

Transmitter: Connector: 

1/4"

Transmitter: Dimensions: 

3.43" x 1" x 1.5"

Receiver: Type: 

Combination Plug

Receiver: Outputs: 

1/4"

Receiver: Dimensions: 

3.43" x 1" x 1.5"
---
We Also Recommend